When you wait 5 years between kids, it's inevitable that you will get rid of most, if not all your baby stuff.  Thus was the case with Danielle and I.  We had no crib, no clothes, no dressers, toys, swings, etc.  We were essentially starting ALL OVER AGAIN, which in this day and age is expensive.  During one of the baby shopping trips to one my my wife's favorite stores in the Pearl District, we both found a crib we loved, but it was $1200.00.  Me (being a guy and looking for excuses to build something) looked at this crib, its four sides, simple legs, and some slats, and thought to myself "this probably won't cost me more than $200 dollars to build".  Luck for me, Danielle was all about the idea and gave the go-ahead to see what I could come up with.
I busted out the handy dandy Mole Skin and threw out a sketch of the design, got some measurements and researched safe wood to use.  I say safe because we didn't want any of that nasty MDF wood which puts off some chemicals.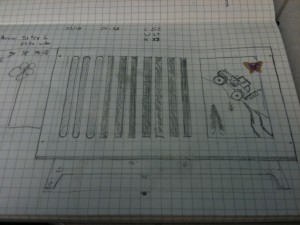 (I originally thought our new daughter would appreciate a cool painting of an FJ40 climbing a hill, but that didn't make it off the paper)
We found a reseller in town which would sell formaldehyde free MDF in 3/4 inch sheets, which was great as they only cost $4.00 more per 4×8 sheet.  The legs were simple white pine from the hardware store, and I used various furniture hardware to attach the sides together.
The first step was cutting and assembling the legs and bottom.  The process started with a rough cut thanks to a jig saw and table to be cleaned up later.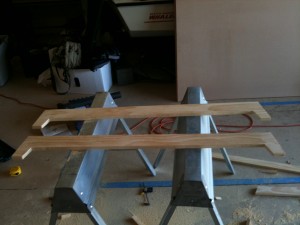 Used some clamps to make sure everything lined up well.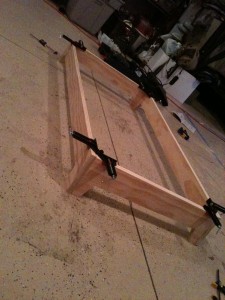 Glue and hidden screws held the legs together so the base could be attached: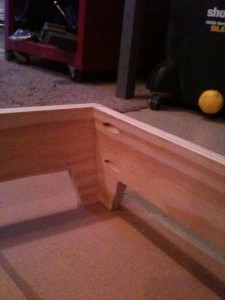 And the base is attached!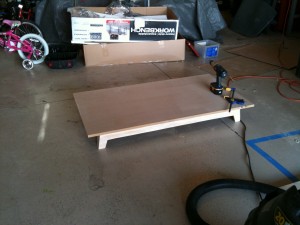 I then cut out the four sides and did a test fit just to make sure things looked and fit ok.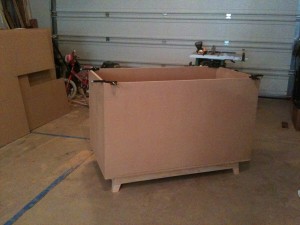 The process of cutting the slats out ended up being much more of a job than I had originally though.  I chewed through a couple forstner bits to create the rounded tops and bottoms of the slats, and use a jig saw to finish them off.  If I was to do it again, I think a better process could have been used.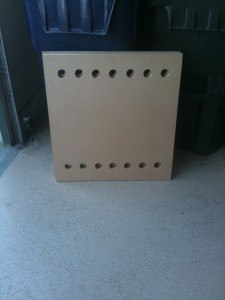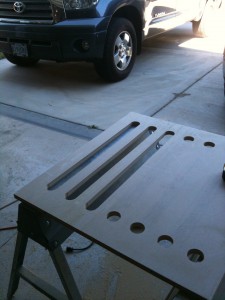 When all was said and done, another test fit being held together with the furniture hardware resulted in the following: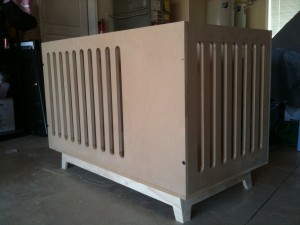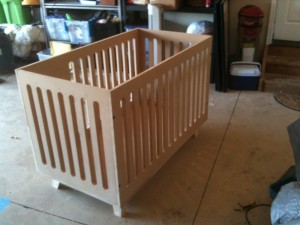 And just when I thought the hard part was over, prep and painting took me by surprise.  MDF is not a fun product to sand as it's extremely hard and MESSY.  Many thanks go to my parents to worked tirelessly one day to help prep and primer.  We chose to try a high gloss finish which was somewhat frustrating to work with, I wanted an amazingly smooth and shiny finish, which I got close, but it would have been nice to have it sprayed.  We stained the legs with a black stain.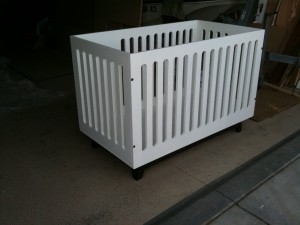 The last step was to figure out what to put for the panel on the front.  My wife used her artistic skills to create an awesomely modern and great looking artwork for the front.  We had originally thought about creating a stencil to be used to paint the design, but after putting the stencil on, needless to say it stayed.  We lucked out when it came on a dark grey material and fell in love with it.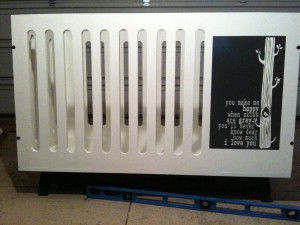 The crib turned out great and I think we were into it for under $300 dollars in materials.  I still need to create a piece for the front which will turn the crib into a day bed.  My mom made some awesome looking bedding and bumper that completes it.  Thanks everyone who contributed time to this project!